TCM-Professional
Module for tube cutting
Module for round tube cutting TCM-Professional is combined with laser cutting machines Lasercut Standart, Lasercut Master, LaserCut Professional M2 and allows for cutting tubes along the length, engraving, as well as cutting out holes of any complexity and grooves.
Unimach machinery is manufactured in St Petersburg using our own components.
TCM-Professional Features
Cutting operations can be carried out near the supporting steady rest which lead to high precision cutting of tubes deformed due to manufacturing
Bowed tube is measured before the cutting in order to compensate it
Zero backlash steady rests to support a workpiece
Machine body is optimized by anchor reinforcement
Shaped tube cutting at angle
Universal steady rest to support shaped and round tubes
Features of Unimach tube cutting modules
High performance
Laser cutting machines Unimach are optionally equipped with modules for round and rectangular tube cutting, combining processing of flat sheets and precision tube cutting. Simple and intuitive change of cutting operations leads to increased efficiency.
Intuitive control
All Unimach equipment is controlled from one workplace using one software. Simple and user-friendly interface allows for carrying out many repeated operations automatically.
The highest cutting quality
Special function of Unimach software measures the tube curve and corrects received data which leads to precision processing of workpieces with damaged geometry.
Specifications:
Rectangular tube cross-section: 150х150 mm
Max round tube diameter: 250 mm
Max tube length: 6000 mm (processed length 3000 mm)
Max thickness of tube wall: 10 mm
Max weight: 300 kg
Compliant with cabinet protection
Rotary axis parameters:
Rotary axis drive: servo drive
Positioning accuracy: ±0.1 mm/m
Repeatable accuracy: ±0.1 mm/m
Max speed: 120 rot/min
TCM-Professional configuration
M1

Main module for holding and rotation of rectangular and round tubes

M3

Manual steady rest for rectangular and round tubes

M4

Steady rest to support round tubes
Modules for tube cutting TCM-Professional are equipped with steady rests to support rectangular and round tubes, as well as additional module to process the tubes up to 6000 mm.

Manual steady rest
Manual steady rest locks and unlocks rectangular and round tubes using a special plug wrench.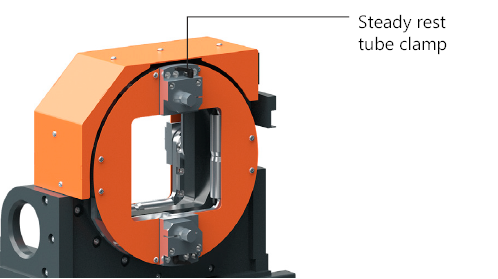 Max cross-section 150х150 mm
Max length 3000 mm

Max cross-section 150х150 mm
Max diameter 150 mm
Max length 3000 mm

Max cross-section 150х150 mm
Max length 6000 mm
Steady rest to support the workpiece
Steady rest supports round tubes with different diameter.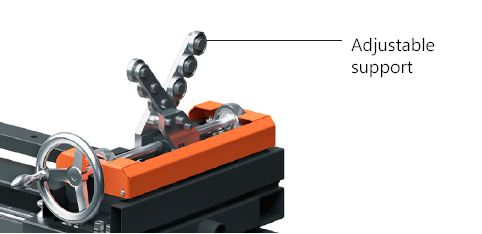 Max diameter 250 mm
Max length 3000 mm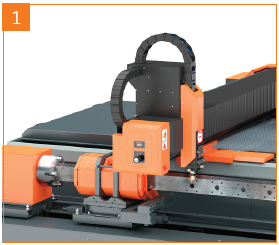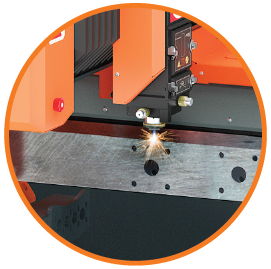 Laser head cuts the tube near the automatic steady rest which securely holds the workpiece preventing it from unwanted oscillations.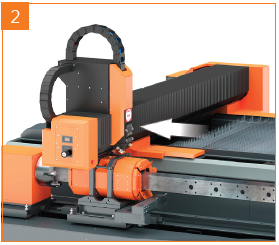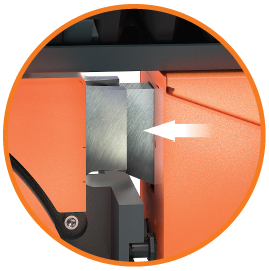 Having processed a part of tube the portal automatically holds the steady rest and moves it, providing some room for the next cutting area.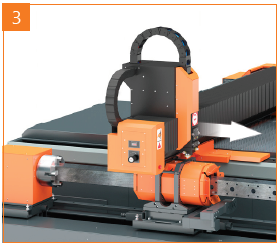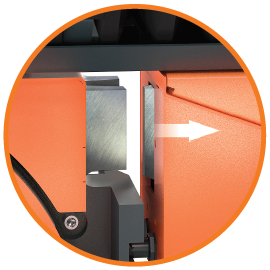 The portal quickly and efficiently moves the steady rest along the tube excluding dead spots while processing.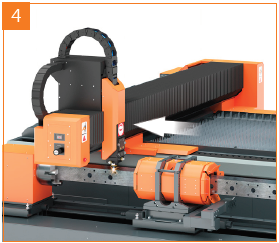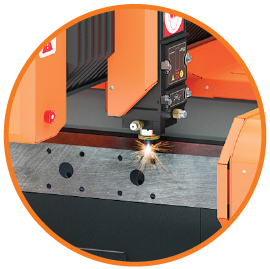 This solution leads to significant economy of time and expanded efficiency.