TCM-Expert
Module for tube cutting
Automated module for round and rectangular tube cutting TCM-Professional is combined with laser cutting machines Lasercut Standart, Lasercut Master, LaserCut Professional M2 and allows for cutting tubes along the length, engraving, as well as cutting out holes of any complexity and grooves. A tube is loaded out of the bundle automatically.
Unimach machinery is manufactured in St Petersburg using our own components.
TCM-Expert Features
Automatic loading system
Cutting tubes up to 6 meters
Integrated smoke exhaust system
Quick automatic clamping of steady rest and chuck
Special receiver for ready cut parts
Powerful drives of steady rest and chuck
Precision mechanical gear
Withstand high operational load
Pneumatic steady rest significantly increases reliability
Features of Unimach tube cutting modules
High performance
Laser cutting machines Unimach are optionally equipped with modules for round and rectangular tube cutting, combining processing of flat sheets and precision tube cutting. Simple and intuitive change of cutting operations leads to increased efficiency.
Intuitive control
All Unimach equipment is controlled from one workplace using one software. Simple and user-friendly interface allows for carrying out many repeated operations automatically.
The highest cutting quality
Special function of Unimach software measures the tube defect and corrects received data which leads to precision processing of workpieces with damaged geometry.
Specifications:
Max length: 6000 mm
Max thickness of tube wall: 10 mm
Max weight: 700 kg
Max rotation speed: 120 rot/min
Shaped tube cross-section: the tube shall fit in the circle with max diameter 200 mm, min cross-section 20х20 mm
Tube diameter, round cross-section: 20 mm - 200 mm
Rotary axis parameters:
Rotary axis drive: servo drive
Positioning accuracy: ±0.1 mm/m
Repeatable accuracy: ±0.1 mm/m
Max speed: 120 rot/min
Clamping chuck for rectangular and round tube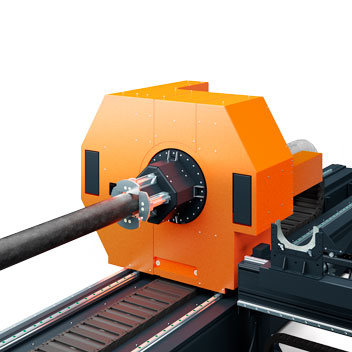 The highest automation level:
automatic tube loading
automatic unloading of cut parts
automatic sorting of cut parts