LC Standard
Laser cutting machine
Description
Based on gantry coordinate system and fiber laser IPG Photonics, laser cutting machines LC FO Standard provide a cost-effective and high-performance solution for Small & Medium Enterprise. Being cost-competitive to solid-state laser machines, LC FO Standard ensures higher performance capacity, as well as time-saving and inexpensive maintenance.
Unimach machinery is produced in St Petersburg using our own components.
Standard equipment
Rigid all-welded heat-treated machine bed with subsequent machining
Gantry coordinate system
Light-weight composite portal
High precision guides, integrated feedback
Servo drive, axes X, Y, Z
Zoned smoke exhaust system
Ytterbium fiber laser IPG Photonics
Cooling system water / air (chiller)
Focus length control system FoCut
Laser optical head with automatic drive of focus lens LH-105
Control console UM-102 (IP65, industrial LCD 21", stationary control panel, pull-out keyboard)
Software UniCut
3-gas console
SPTA kit
Commissioning works and personnel training
The price depends on the laser power
Main features
Laser
LC FO Standard fiber lasers represent some undeniable advantages compared to other types of lasers. First of all, the lasers do not require any maintenance as they are located in the entirely sealed body. This excludes any contamination and allows our customers to cut down costs on high-skilled service staff and consumables. Secondly, fiber lasers are the most reliable among the existing ones. Their operating lifetime exceeds a decade. Finally, an output emission of fiber laser has a high quality and stabile beam parameters. In addition to the above, the laser is ideal for cutting highly-reflecting materials, such as latten, aluminium, copper, galvanized and stainless steel, and making metal engraving.
Beam delivery
A beam is delivered by a fiber-optic path without mirrors minimizing an amount of necessary consumables. The fiber system is absolutely reliable; its lifetime can be compared to the laser itself.
Arrangement and design
Unimach® pays special attention to the arrangement and design of the equipment. All parts (laser unit, cooling unit, automation cabinet, etc.) are combined in one complex which leads to saving valuable meters of production facilities, perfect organizing of production operations and increasing reliability of the laser cutting machine. To provide additional comfort all external connections are carried out from one side. Edgy industrial design outlines the whole production process.
Machine bed
The machine bed is an all-welded structure with subsequent machining. It combines a high accuracy of production, rigidity, reliability and long life.
Smoke exhaust system
Standard equipment includes zoned smoke exhaust system.
Cooling system
LC Standard is equipped with the water / air cooling system (chiller) providing a perfect solution for machine cooling and reducing expenses for water consumption.
Gas supply system
It's crucial to ensure that gas blowing of the cutting area maintains the constant pressure during metal cutting. We offer a perfect solution - pneumatic system of LC FO Standard which operates with the maximum pressure of 20 atm. Such pressure is ideal for cutting nonferrous metals and reaching the highest quality of a cut edge. LC FO Standard can be optionally equipped with an automatic gas console with a CNC integrated interface which provides a remote control of gas inlets and gas pressure in the cutting area, and monitors the current system status. The console controls switching of a cutting gas type and sets its pressure automatically if materials are selected from the Library.
UniCut software
User-friendly and functional software plays a crucial role when operating the cutting machine. The software is an instrument which an Operator uses to control the machine, prepare and upload programs, provide settings of the modules.
Main specifications
Emission source
Type
Ytterbium fiber laser
Power, W
1000-3000
| Model of laser | Maximum thickness * |
| --- | --- |
| IPG 1000W | ≈ 10 mm |
| IPG 2000W | ≈ 16 mm |
| IPG 3000W | ≈ 20 mm |
* - The listed thicknesses are the maximum for cold rolled steel (Ст3ПС), oxygen blowing, not demanding for quality and cutting burr.
General specifications
Model
LC Standard FO3015
Processing area, mm
3000x1500
Weight (max), kg
4200
Max load to table, kg
1000
Overall dimensions (mm)
Length
4380
Width
2610
Height
2135
Accuracy*
Positioning accuracy in all axes, mm
±0,1
Accuracy of repetition, mm
±0,05
Speed and acceleration
Speed of free movement along the axes X, Y, Z, m/min
synchronously up to 120
Vector acceleration / deceleration along the axes X, Y, Z
up to 2 G
Linear axes
Axis Х
Servo drive zero backlash gearbox, precision rack gear
Axis Y
Servo drive zero backlash gearbox, precision ball screw
Axis Z
Servo drive with encoder, additional tracking feedback, precision ball screw
* - Accuracy depends on the workpiece type, preprocessing, sheet size and position at the working area. According to standard VDI/DGQ 3441 measurement length complies with 1 m.
Overall dimensions of the machine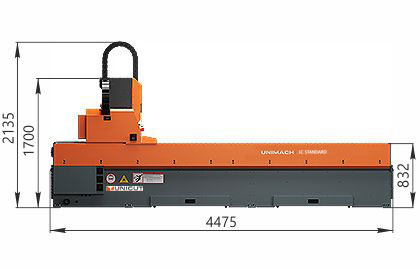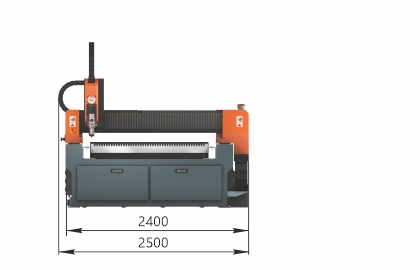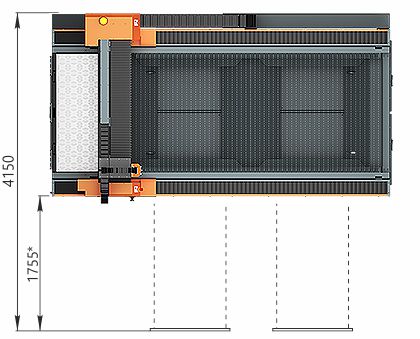 Control console UM-102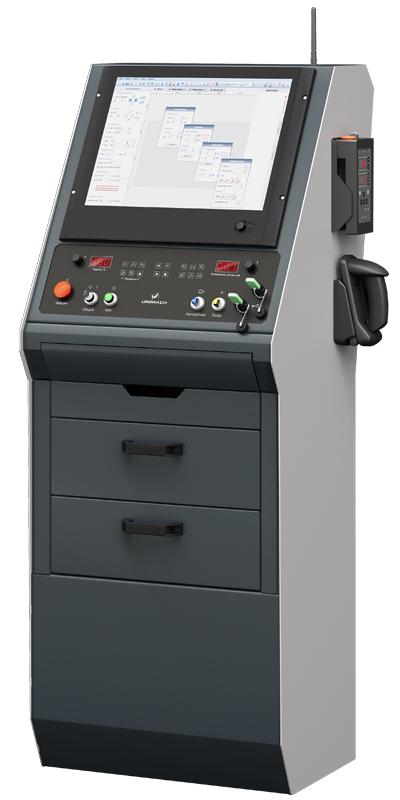 Control console is a separate dust-proof console equipped with an LCD to represent operating data. All controls and LEDs are located on the panel in front of the operator; such layout allows an operator to react within the shortest time and prevent any possible errors. To provide additional comfort the console has special drawers to store consumables or working tools.
CNC console is equipped with two USB ports to connect flash drives or download drawings and programs. A LAN port to integrate a machine to general manufacturing system is located on the back panel.
UniCut software
User-friendly UniCut software is a proprietary development of our company. To simplify and optimize cutting process UniCut provides the special functions such as pause, back move along the contour, quick transition to any piercing, quick change of piercing point, cutting can be initiated from any point of contour, etc.
Control operations from your workplace using one program
All control interfaces of the machine units are integrated in one program. All cutting machine modules can be controlled from one workplace to provide additional comfort.
Individual settings for laser piercing, engraving and cutting
Laser piercing, engraving and cutting modes can be set individually before the cutting process. There's no need to stop the process in order to change or enter the new settings. Switching among the modes occurs automatically leading to higher production capacity of the cutting machine.
Laser power can be controlled depending on the speed
To reach higher quality of sharp and right angles laser power can be controlled automatically depending on the speed of the optical head. At the zero speed (at the moment of stop at the corner) output power equals to minimum power configured in the settings which prevents a corner's burnout.
Library of materials
UniCut software includes the Library of materials, where a user can find recommended settings for particular materials or use a special function to create new ones.
Automatic program creation
UniCut software can help you to create a cutting program quickly and intuitively, in a few clicks. The program automatically detects nested contours and calculates the most optimal travels. This function is useful for small enterprises that are dealing both with small batches and a wide range of products.
User-friendly interface
Provide the settings quickly using our user-friendly graphic interface. Graphic data is easier to percept than endless lines of digits, it saves your time and makes workplace's atmosphere more comfortable.
Maintenance timers
Software maintenance timers help to provide technical maintenance on schedule indicating time to replace consumables. The software automatically calculates working hours for the machine units and notifies an operator about the required service.
Production statistics
UniCut software automatically calculates time for workpiece processing, beneficial use of materials, number of parts. Software represents a function of cut-out parts calculator. Received data significantly simplify cost calculations, e.g., calculations for third-party orders, costing production.
Remote diagnostics
Remote diagnostics of system malfunction (through the Internet) makes it possible to reduce downtime of the machine and cut down off-site expenses concerned with wrong settings of the equipment.
Operator's log
Working objectives can be assigned and controlled remotely from the operator's workplace reducing paperwork and setting objectives through the network. That helps to organize working process more efficiently because systematization (materials, priority, product) is done automatically in this case.
Intuitive and user-friendly software
Simple and intuitive UniCut software saves time of staff training: a mid-level specialist can be quickly taught some basic operations with the machine. The work of mid-level specialist will cost less than a highly-skilled professional resulting in the lower product cost. Software also allows for monitoring and control of tracking system, cooling system, laser and log of module operation data. Free updates.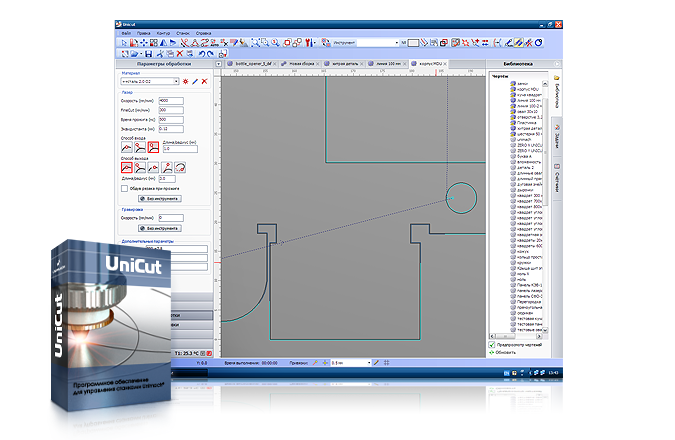 UniCut mainframe window
Focus length control system FoCut
Automatic tracking system Focut of our machines controls a stabile position of an optical head with precision of 0.1 mm within the wide range of heights. It ensures precise cutting both on the workpiece edge and highly deformed metal sheet. Learn more
The system includes the following capabilities:
Jump up piercing. At the moment of piercing an optical head is uplifted to the specified height preventing the nozzle from contamination by the melted metal. Then the further cutting is carried out from the specified focus length. This method helps to use the consumables - a nozzle and protective glass - efficiently and avoid possible errors or malfunction.
Fly cutting (without stopping to pierce the material). This method crucially reduces the time for processing thin sheets as the machine cuts all contours which are located along one line (and not each separate pattern). An optical head moves all over the workpiece cutting the contours of the relevant area. This function is perfect for cutting perforated grilles.
Pre-heating of the cutting area. Cutting thick material requires pre-heating. An optical head uplifts at the height set by an operator and heats the cutting area; then the optical head goes down and cuts the material.
Shortened height. While moving from one piercing point to another an optical head is not uplifted to the maximum height; it is lifted at the shortened height, therefore saving time and increasing the efficiency of the machine.
Automatic calibration of the optical head. Automatic calibration system ensures calibration at every piercing point. This function maintains high quality even when cutting the strongly deformed metal.
Graph display of dynamic and operating parameters. A graph is a convenient, simple and time-saving way to estimate operation of tracking system and detect errors.
Focus length control system FoCut also allows for processing non-metallic materials.