Laser optical head LH
LH-105
Optical head LH-105 – is the new model of LH laser head series developed by our company.
Features of laser optical head LH-105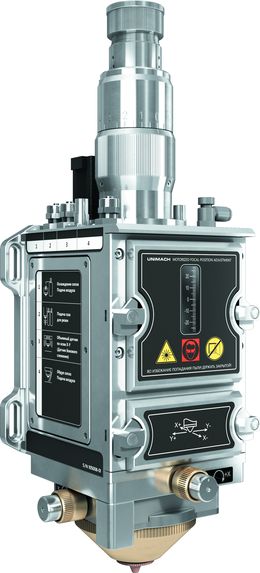 Optical head LH-105
Automatic adjustment of focus length
A built-in lens drive ensures automatic adjustment of focus length which lead to simpler settings and higher speed of metal piercing due to displacement of focal point at the moment of cutting. If materials are selected from the Library, the machine automatically makes length adjustments.
Cartridge system of lens and protective glass replacement
Cartridge replacement of lens and protective glass significantly reduces time for their service.
The replacement is quick and simple: just move a clamper, take out a cartridge and put in a new one. It's as simple as that!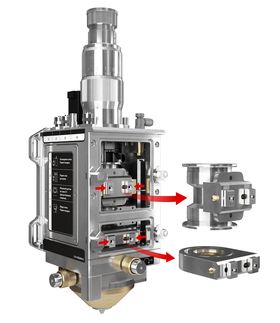 Nozzle temperature control
Incorrect laser adjustment relative to the nozzle centre leads to overheating which can result in melting, lower cutting quality or even nozzle failure. Integrated sensor detects increased temperature and sends an error signal to the control console, or the machine stops operation. This function is a solution for cutting non-ferrous metals.
Air cooling system
At the moment of piercing the system immediately supplies air and directs it to the cutting area providing cooling and cleaning from melting.
Forced air cooling
Forced air cooling prevents a nozzle area from overheating. It especially comes to the aid when cutting nonferrous metals due to their high coefficient of reflection.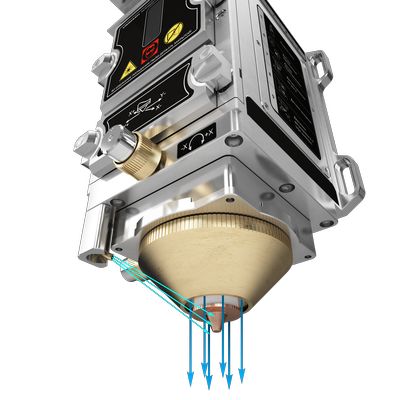 Collision-safe travels
The system automatically detects hazardous areas (uplifted parts, not included in the safe areas holders, etc.) in real time. If an obstacle is detected the optical head is uplifted, moved to the safe area, or operation is put on hold.
FoCut System
Integrated automatic tracking system FoCut has the highest performance in the market range. FoCut controls a stabile position of an optical head with precision of 0.05 mm within the wide range of heights. It ensures precise cutting both on the workpiece edge and highly deformed metal sheet.
Collimator
Collimator with an adjustable lens system ensures an accurate calibration of laser and improves the quality and speed of cutting.
Protective glass blowing
Blowing prevents protective glass and other key components from dust intrusion, leading to increased life time.
Technical specifications of LH-105
forced blowing of piercing point;
integrated sensor of tracking system FoCut;
quick (cartridge) change of focus lens;
quick (cartridge) change of protection glass;
adjustment range of focus length: 20…+20 mm;
change of focus length without stopping (incl. laser piercing);
automatic settings of focus if the materials are selected from the Library;
focus lengths 150, 200 and 300 mm;
collimator with focus lens adjustment allows reaching cutting thicker workpieces, the best quality and higher cutting speed;
electric-mechanical lens drive;
CNC control of focal length;
lens diameter 1" and 1.5";
blowing of protective glass;
nozzle temperature sensor;
nozzle cooling.
Features of LH laser cutting heads:
increased cutting efficiency;
improved cutting quality;
optimal piercing modes;
extended life of consumables;
quick and convenient service;
maximum automation of cutting operations.