AFU-8
Filter-ventilating unit
Filter – ventilating unit AFU-8 filters air from dust, solid particles and smoke after during welding, soldering, thermal cutting of metals and other production operations. AFU-8 provides a solution for polluted air at the production area. Two-stage filtering ensures efficient continuous and quick removal of smoke and dust.
Filter-ventilating units Unimach® provides the closed cycle of air circulation maintaining the warm environment in the production area.
Unimach machinery is manufactured in St Petersburg using our own components.
Specifications
Weight, kgг
1700
Flange connection
∅ 355 mm
Efficiency
8000 m3/hour
Air pressure
5-7 atm.
Max air flow
60 l/min (only for filter regeneration cycle)
Power supply
380 V AC, 50 Hz
Max power consumption
7,6 kW
Overall dimensions (mm)
Width
2130
Height
3230
Depth
1845
Overall dimensions of the unit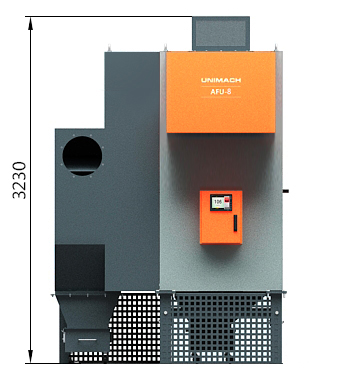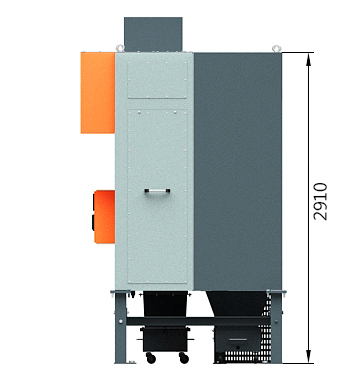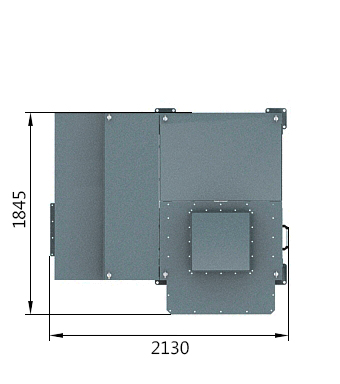 AFU-8 Features
Special shape of filter element increases total system efficiency and filter life time.
Cyclone filter ensures precleaning and removes the main part of clogging which leads to longer life time of filter elements.
Low noise level at high efficiency.
Digital inverter drive ensures smooth start, stepless adjustment of suction power and high efficiency.
Electronic controller. The filter-ventilating controller provides a smart measurement of filter clogging and starts cleaning which greatly expand life time of filter elements.
Saving on electricity. Inverter drive with smart control leads to decreased power consumption. Additionally, when the machine is not used at full capacity it switches to the standby mode.
Graphic display with touch control provides intuitive interface and user-friendly presentation of operational parameters and system notifications.
Filter class in compliance with standards:

DIN EN 779 - F9
ASHRAE 52.2 - MERV 15

Average filtering efficiency, within the range 0.3- 5 ?m – 99.9%
2 years warranty